I saw this on a friend's blog.
Take the quiz:
"Which American City Are You?"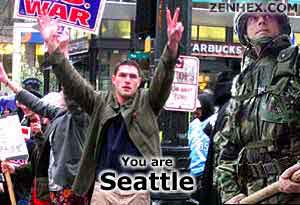 I took the quiz and got:
Seattle
Your dark exterior masks a caffeine driven activism. You'll take up a cause and you'll get ugly to advance it.
Guess I'm in the right place!
I was undecided on a few of the questions, and took the quiz again and chose the other answer. This time I got:
Las Vegas
You Shine bright and partake in all the vices. You'd rather burn out then fade away.
Looks like I'm a west coast kind of person - I can agree with those results. While the east coast has its charms (I've lived in Brunswick, GA for half of 9th grade; Silver Spring, MD for my high school years; and NYC for four months, before I moved to Washington state) I do like the west better.